With upcoming Consumer Duty changes taking effect on Monday 31st July 2023, Granite Underwriting urges all brokers to prepare for the impending updates to existing products and services. These rules will apply to all new customer sales and existing customer renewals. It is important that all brokers are aware of these changes to ensure compliance with new regulations from the beginning.
Granite Underwriting is continually looking to support our brokers providing them with all the latest updates and opportunities within the insurance industry. As a specialist provider of niche and non-standard motor insurance, we understand the importance of these changes and how vital it is to have a firm understanding before they take effect.
Consumer Duty Update: The Main Changes
The changes in the Consumer Duty update are impactful and far-reaching for both businesses and consumers. The main points of the FCA update include:
Consumer Duty would be a new overarching principle that would coexist with the FCA's existing Principles for Businesses.
All firms must strive to achieve four outcomes to comply with the Duty, which includes ensuring that their products and services are suitable for their customers and meet their needs, that their prices are fair and that their customers receive value for money, that their customers understand the risks and benefits of their products and services, and that they provide their customers with clear and timely information and support.
Firms must consider the needs, characteristics, and objectives of their customers when designing, selling, and providing products and services.
Additionally, firms must take extra care to ensure that vulnerable consumers achieve outcomes that are as good as those of other consumers.
The FCA will monitor firms' compliance with the Duty and take enforcement action where necessary.
Guidance will be published by the FCA on how firms can comply with the Duty.
The FCA will consult with consumers and the industry on the proposals before making a final decision.
The Duty has been rolled out in multiple phases, however, the rules for new and existing products or services that are open to sale or renewal come into force on Monday 31st July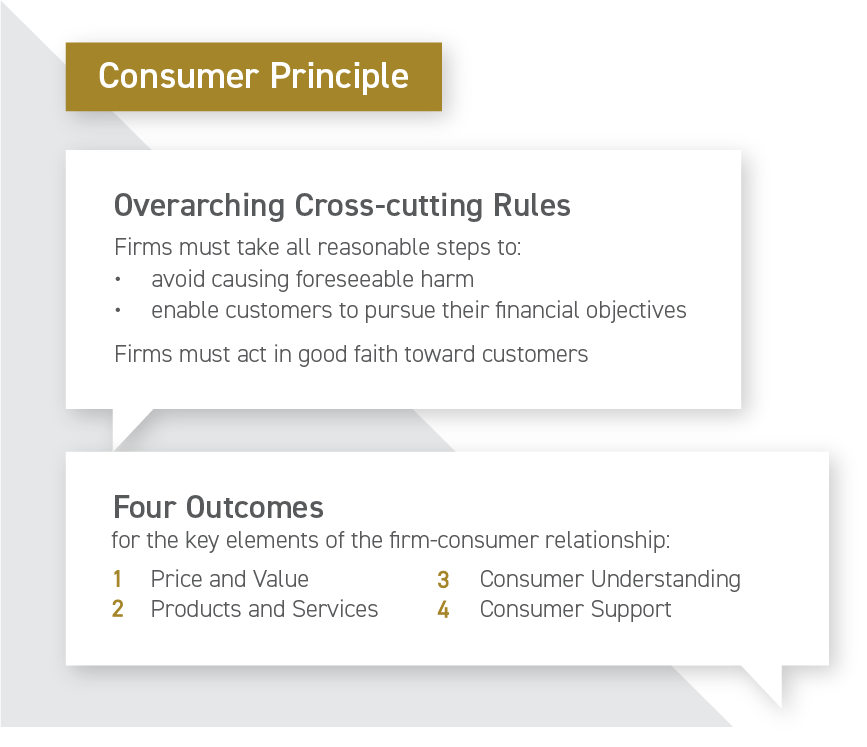 Why is the Consumer Duty Update important?
Firstly, consumer groups have welcomed the FCA's proposals, stating that the current regulatory framework is insufficient in safeguarding consumers. Furthermore, the introduction of the Duty would raise the bar for firms and provide better protection for consumers. The proposed Consumer Duty offers several benefits, including:
Higher standards of consumer protection.
Reduced consumer harm.
Increased competition in financial markets.
Improved trust between consumers and financial services firms.
Additionally, it could promote financial literacy among consumers, reduce the number of consumer complaints, and improve the reputation of the financial services industry.
What does the Consumer Duty Update mean for your customers?
The Consumer Duty is a new set of rules that will require firms to put their customers' needs first. This means that you will need to consider the needs of your customers when designing and selling financial products and services, and you will need to provide clear and comprehensible information to your customers. The Consumer Duty will also help to ensure that consumers receive a consistent standard of customer service.
This is a positive step for consumers and will help to ensure that customers are receiving good outcomes. Also, they will have access to the information they need to make informed decisions about their financial products and services.
Granite Underwriting supports the Consumer Duty Update
We are committed to meeting the requirements of the Consumer Duty Update. Granite Underwriting has a longstanding culture of protecting our brokers and customers, and we are confident that we can continue to do so under the new regime.
Finally, we encourage all our brokers to take steps to prepare for the Consumer Duty Update. It is an important opportunity to improve consumer protection and to develop a more sustainable and resilient business model. For further information, you can view the FCA's Policy Statement here on the FCA website. For any other queries or questions please contact Granite Underwriting using:
Telephone: 0345 092 0701 – Option 2
Email: [email protected]
This article includes links to third-party websites and apps which we include solely for information purposes, there is no implied endorsement of using these resources. Clicking on links, visiting third-party websites, or downloading apps may allow third parties to collect or share data about you that is out of our control. When you leave our website, we encourage you to read the privacy notice of every website you visit. We are not responsible for the availability, content, accuracy, completeness, or security of such resources. We will not be liable for direct or indirect damages arising out of or in connection with the use of websites or apps.