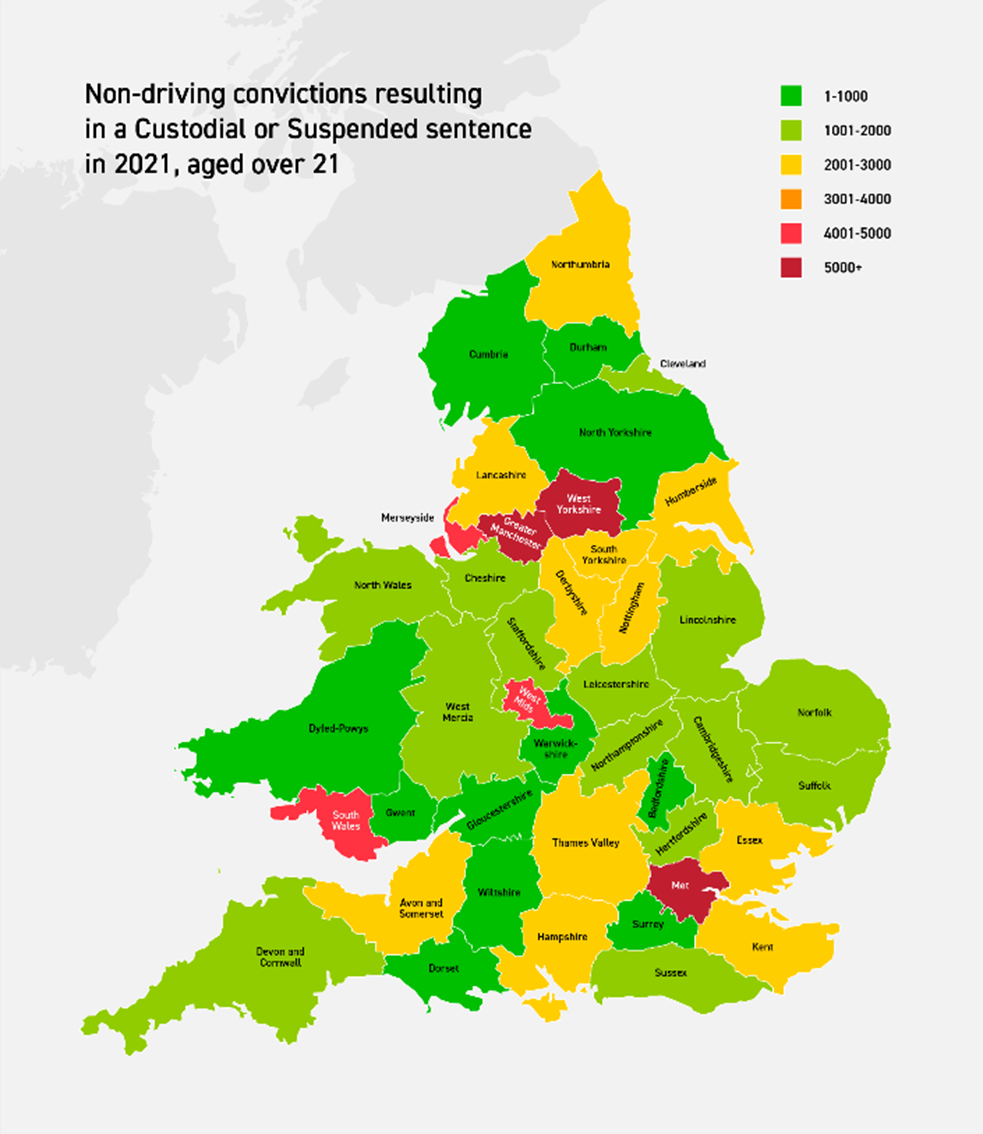 Figures obtained from Ministry of Justice – Criminal Justice System Statistics for England and Wales Dec 2017 – Dec 2021
How Long Must You Declare Criminal Convictions?
Importantly, the Rehabilitation of Offenders Act 1974 states that "the time a conviction takes to be spent should be coherent with the rehabilitation period appropriate for your crime." Ultimately, the length of a sentence determines the period you must declare it. For example, fines are "spent" after a year in the UK, whereas you must declare prison sentences of more than 4 years indefinitely. Furthermore, for information on convictions and the periods of declaration required by law consult the gov.uk website or our previous blog "Rehabilitation of Offenders Act 1974 Explained".
Struggling to Secure Car Insurance with Criminal Convictions?
Granite Underwriting is a specialist provider that has been established since 1982. With our experienced team of underwriters and a flexible approach, we compete in areas of the market where more traditional insurers would decline. Our dedicated UK-based team of insurance agents are on hand to help your customers secure the coverage they need, even with criminal convictions.
We understand our client's needs and provide solutions, taking a proactive approach and examining the merits of each risk on a case-by-case basis.  Additionally, our team also provides:
Flexible Underwriting: a dedicated and experienced team who underwrites each risk
Fast Turnaround: we are available from 9:00 am to 7:00 pm Monday to Friday and until 3:00 pm Saturday
Online Portal: for easy risk submission and issuing cover
Reliability: providing a consistent approach to underwriting and rating
Net Rated quotations: most of our schemes are Net Rated allowing you to adjust the size of your broker fee and maximise your earnings
Call or Click for a Quote Today! 
Fortunately, Granite Underwriting is here to help your customers get back on the road, and on with their lives. We may be able to help those with criminal convictions find the car insurance they cannot acquire elsewhere. Call 0345 092 0701 or click "Get a Quote" now to discuss your requirements.
This article includes links to third party websites and apps which are included solely for information purposes. There is no implied endorsement by use of these resources. Clicking on links, visiting third party websites, or downloading apps may allow third parties to collect or share data about you which is out of our control. When you leave our website, we encourage you to read the privacy notice of every website you visit. We are not responsible for the availability, content, accuracy, completeness, or security of such resources. We will not be liable for direct or indirect damages arising out of or in connection with the use of websites or apps.